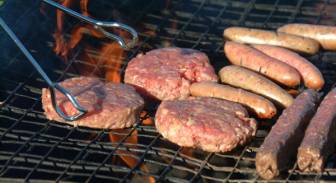 Dining can be a delicious part of any vacation getaway, and a visit to the state of Tennessee is the perfect opportunity for experiencing the state's enticing culinary styles.
Culinary History
The history of Tennessee's culinary styles began with the Native Americans living in the region and progressed with the European settlers that arrived in the state around 1679. The settlers cultivated crops of corn, potatoes, a few vegetables, and very little fruit (most pioneers had at least one apple tree). Deer, wild turkey, raccoon, bear, rabbit, and squirrel were among the wild game used in early cooking, and hogs provided meat in the winter. These meats were mainly used in stews, which are still a popular part of the state's regional cooking.
In the hillier regions of the state, stews and roasted meats were a staple, while in western Tennessee, which is associated with the more luxurious plantation lifestyles, there were more formal meals. Plantation cooking commonly used ham and corn in its recipes, a similarity in culinary styles shared by both the hill and western regions. Each settlement had their own way of preparing ham, and corn was used not only as a vegetable, but in different breads as well. Somewhat of a rivalry has developed over the years between Tennessee and Virginia over their hams.
State Specialties
Ramps run rampant in the city of Cosby, Tennessee. Often called Tennessee truffles, these odoriferous wild leeks thrive in buckeye flats and are a celebrated state-wide. The town even holds the Annual Ramp Festival in celebration of the odd little delectable.
A great alternative for seafood lovers is Tennessee's freshwater shrimp, also known as prawns. These locally produced shrimp are safe and healthy, with a lower sodium content than their saltwater counterparts. The mildly sweet tasting prawns are plump and have a lobster-like texture without the "mud vein."
Regional recipes, served up all over the state, include broiled flank steak, chivo pilaf, barbecue prawns with fresh corn relish, meat kabobs with chili yogurt sauce, cider glazed shrimp, tomato basil pork loin, fall squash and sausage soup, grilled pork, chicken and blue cheese dumplings, and many, many more state specialties.
Local Produce
Because of the state's long growing season, which lasts from the middle of June until October, a lot of fresh produce is used in Tennessee's local recipes. The Volunteer State boasts all kinds of fresh produce from apples to zucchini and is among the leading states in the nation in fresh market production of tomatoes, green beans, and pumpkins. Other vegetables grown in Tennessee include beets, broccoli, cabbage, carrots, corn, cucumbers, eggplants, gourds, various herbs, peppers, lettuce, okra, onions, greens, potatoes, and more. Health-conscious visitors can also enjoy organically grown produce. Along with verdant veggies, Tennessee farmers also grow a variety of fruits, including blackberries, blueberries, and cantaloupe melons.
Various vegetable and fruit dishes and deserts are offered on many menus throughout the state, including stuffed red potatoes with caramelized onions, wild baked acorn squash, blackberry cheesecake ice cream, sun-dried tomato spread, Tennessee jam squares, sweet potato souffles, strawberry lemonade, and many other local produce-based recipes.
To find some of the state's freshest locally grown produce, check out any of Tennessee's farmers' markets, which are are a state tradition. Not only will you be purchasing fresh and flavorful produce, but you'll also be helping the state's farming community that provides these natural goodies.
The Tennessee Stack Cake
The stack cake is a confectioners specialty of the Appalachian region and was traditionally served as a replacement for more fancy, and costly, wedding cakes for the early mountain settlers. Stack cakes were particularly popular in in eastern Tennessee where apples were plentiful. Neighbors would each bring a layer of the cake to the bride's family, which they spread with apple filling as they arrived. It was said that the number of cake layers the bride got determined how popular she was.
Here are the traditional ingredients for a recipe for Tennessee stack cake that is said to be more than 100 years old:
1 cup sorghum molasses

2 eggs

4 cups uncooked dried apples

brown sugar to taste

2 tea. cinnamon

1 tea. vanilla

5 cups plain flour

1 cup shortening

1/2 tea. salt

1/2 cup buttermilk
You can try you hand at baking this yummy desert yourself, or wait until your Tennessee visit to taste an authentic Tennessee stack cake.
The Great American Snack
The city of Chattanooga can be credited as the invention site of one of the nation's most popular confections: the MoonPie. Founded in the early 1900's, the Chattanooga Bakery was a subsidiary of the Mountain City Flour Mill, and it was founded in order to make use of the mill's excess flour. Although the exact history of the MoonPie wasn't documented, there has been insight into the sugary snack's origins.
The deceased Earl Mitchell, Sr. has been credited as the founding father of the MoonPie. Mitchell reportedly got the idea for the MoonPie from hungry coal miners who wanted a snack for their lunch pails that was solid, filling, and "as big as the rising moon." Mitchell kept these ideas in mind when he went back to the bakery and noticed some of his workers dipping graham cookies into melted marshmallow and setting them aside to harden. They then added another layer of graham cookie and coated it with a generous amount of chocolate, sending the finished product to the mines for the workers to try. The graham-marshmallow snack was so well-received that it became a regular product of the bakery, and thus a great American snack was born.
The MoonPie had become so popular by the end of the 1950s that it was made the sole product of the bakery. It was a sweet and delicious, bargain-priced snack that all could enjoy. MoonPies are so popular in Tennessee that locals have been celebrating the snack for more than 13 years with the Annual RC and Moon Pie Festival held in the little town of Bell Buckle.
Tennessee Food Fests
In celebration of Tennessee's dynamic food culture, there are a number of annual festivals and events held throughout the state in recognition of the state's culinary styles. Here is a list of food festivals that visitors can check out while visiting the Volunteer State:
The Annual National Cornbread Festival

American Culinary Federation Southeastern Regional Conference

The Annual Tennessee Strawberry Festival

The Annual Cosby Ramp Festival

West Tennessee Strawberry Festival

World Championship Barbecue Cooking Contest

Greater Five Points Tomato Art Festival

Tennessee Soybean Festival
The times and locations of these events may be subject to change, so check with the event Web site or local tourism board before planning your Tennessee food festival outing.
Tennessee offers a delicious variety of regional fare that is sure to appeal to almost any taste bud, so explore Tennessee's culinary styles on your your next Volunteer State getaway.
Print this Article